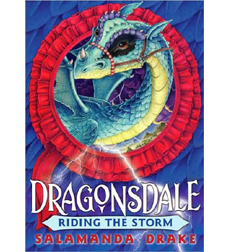 ==Welcome to DragonsDale wiki!==
Dragonsdale wiki is an encyclopedia about the wonderful Dragonsdale books by Salamanda Drake! Please, enjoy learning and discovering facts about your favorite dragons and their riders. Thanks for visiting.
Dragonsdale-
Edit
Dragonsdale is one of the stables on the islands with excellent prestige. It is the stable where Cara, Breena, Moonflight, and Skydancer can be found. Most are excellent fliers, and their patrol team takes excellent care of their patrons. The color is mainly green.
Their Dragonmaster is Huw.
Drakelodge
Edit
This stable is one of the many on the islands and is often present at the island championships.
Their Dragonmaster is unknown.
Color-Brown
Clapperclaw
Edit
One of the stables with excellent riders who frequently beat Dragonsdale at the championships, despite the Dragonsdale riders. This was the stable belonging to Drane, a boy who came to work at Dragonsdale. Unfortunately, although his family was bound to Clapperclaw, they did not rescue him in time, so he (Not to Mention the Rest of Dragonsdale) have very bitter opinions on their opposing side.
Dragonmaster-Adair
Color-Scarlet
Stable with excellent riders, and dragons, but are bested during the island championships.
Dragonmaster-Hoyt
Color-Blue
Wyvernwood
Edit
This stable is almost unknown in the books.
Dragonmaster-?
Color-?
Books in the series so far
Edit
1. Dragonsdale
2. Dragonsdale: Riding the Storm